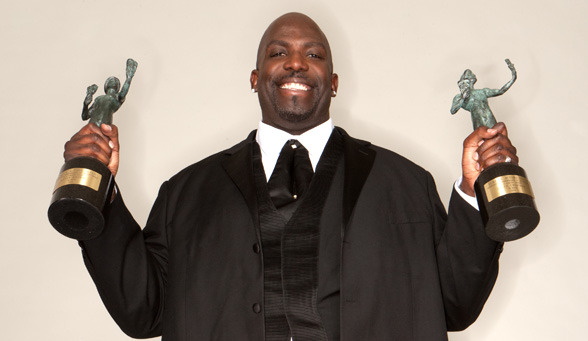 Kevin 'Dot Com' Brown
Kevin Brown aka "Dot Com," is a winner of the 15th annual Screen Actors Guild award, for his portrayal of "Dot Com," in NBC's 30 ROCK (winner of multiple Emmy and Golden Globe awards). Dot Com can be seen every Thursday night, starring opposite Tina Fey, Alec Baldwin and Tracy Morgan on the award winning comedy 30 Rock.
30 Rock is in its sixth season as is Dot Com who plays a bodyguard/best Friend and right hand of the famous entourage of the eccentric Tracy Jordan portrayed by actor/comedian Tracy Morgan. The series takes place behind the scenes of a fictional live sketch comedy series depicted on NBC ; the name "30 Rock" refers to the address of the GE Building 30 Rockefeller Plaza where NBC Studios is located.
During the fourth season NBC released the webisode "Livin' XL with Grizz and Dot Com" based on demand. The webisode serves as an opportunity to develop Dot Com's character. Since its release, "Livin' XL with Grizz and Dot Com" has achieved one of the higher viewerships of 30 Rock's video continuing to expand Dot Com's character.
Over 20 years ago Dot Com and his brother Andre created and produced The Uptown Comedy Club tv show (on the FOX 5 network), which ran for four seasons. Their live creation The Uptown Comedy Club (located in the heart of Harlem on 125th St.), experienced national success in the 80's and 90's. Dot Com managed and taught some of today's most successful comedians (including JB Smoove of Curb Your Enthusiasm, Flex Alexander of UPN's One on One and Tracy Morgan of NBC's 30 Rock).